Sing It As Blue As I Feel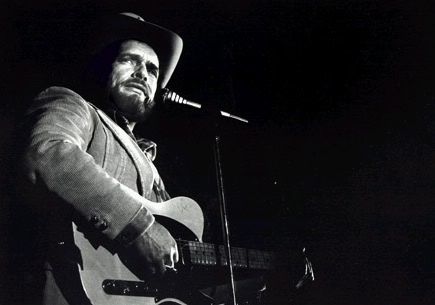 This morning I learned the sad news that Merle Haggard was hospitalized yesterday, for unknown reasons. He had been scheduled to play at a casino in Pendleton, Oregon, but was forced to cancel that show as well as subsequent dates in Boise, Idaho and Tacoma, Washington. I'd like to take this opportunity to wish him a complete and quick recovery. This is also the perfect excuse (not that one needs an excuse to listen to Hag) to post my favorite song of his, just to get some good vibes spreading.
Merle Haggard - "You Don't Have Far To Go"
This song is from Haggard's 1965 debut album
Strangers
, and contains one of his very finest vocal performances. He wrote the song with Joe Simpson and it's still one of his most affecting lyrics. It's available on CD as part of the 1998 2-on-1
Strangers/Swinging Doors
compilation or on the 1996 four-disc box set
Down Every Road
, both of which are readily available at most major record stores. Keep in mind that this song is a slightly different version than the one that appeared on 1967's
Branded Man
, where it was titled "You Don't Have Very Far To Go".
Word on the street (read: the internet) is that Haggard will be touring with none other than Bob Dylan in March and April, so that's just one more reason to be sending Hag the best possible wishes. Keep an eye on his
official website
for more information.