Ciao 2006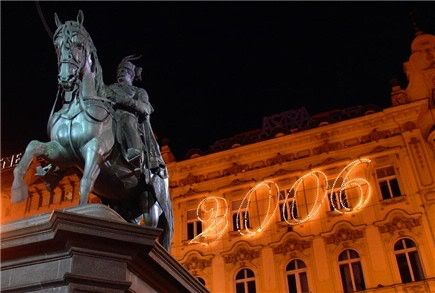 Home sweet home. After a week or so of travelling (with the flu no less), the bakster returns to kiss 2005 goodbye and welcome its successor.
2006 seems set to hit the ground running. Hopefully the new Strokes album (released today) will be as good as their last two, which were both outstanding. January 24th looks ready to vie for the title of All-Time Greatest Release Date with new albums expected from Bonnie 'Prince' Billy (with Tortoise), Cat Power, The Gossip, Jenny Lewis and Ester Drang, as well as a Tarkio anthology from Kill Rock Stars and the stateside release of Saint Etienne's latest. That ought to devastate a few wallets. Later in the year there are scheduled new albums from Neko Case, The Concretes, Roxy Music, Simon Joyner, Grandaddy, Anna Oxygen, Ghostface, Quasi, Murs, Two Gallants, Nellie McKay, TV On The Radio, Yeah Yeah Yeahs, Nas, The Flaming Lips and The Shins, as well as a live album from Elvis Costello and a Tom Waits rarities box set. And, if we all behave ourselves, maybe even a new Radiohead opus. Did I mention those rumors of Bob Dylan putting in some studio time recently? This all sounds like an embarrassment of riches in the making.
I'm putting the finishing touches on my Best Albums and Songs of 2005 lists, so look for those later in the week if you're into that sort of thing.
Once again I'd like to thank those of you who take the time to comment. Feedback and dialogue are two of the main reasons I do this, so I'd love to see even more of that in the new year. Thanks for reading.