Little Bundle Of Joy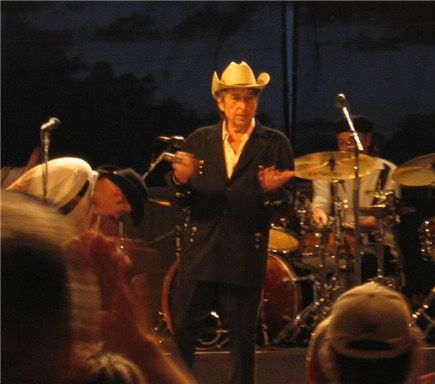 The elder statesman of rock 'n' roll. The man who reinvented songwriting in the '60s. The dude who wiggle wiggled his way out of a fanbase, who went both domestic and dogmatic by the end of the '70s and disappeared up his own leather-bound ass, only to emerge from Brownsville with Jerry Garcia and a jheri curl in the '80s, and unexpectedly returned with a face to match his voice in the late '90s. Ladies and gentlemen, please welcome Columbia recording artist...
Bob Dylan - "Down Along The Cove [Live]"
Bob Dylan - "I'll Be Your Baby Tonight [Live]"
What we have here are a couple more performances from Bob's most recent tour. A friend requested them a while back, but I didn't want to post them too hot on the heels of my last Dylan post, else cool hand bak be accused of favoritism. This version of "Down Along The Cove" is from the March 11 show in Portland, Oregon, while "I'll Be Your Baby Tonight" was recorded in Calgary, Alberta on July 24.
Anyone who hasn't already done so should pick up the seventh volume of
The Bootleg Series
, which doubles as the soundtrack to the upcoming Martin Scorsese documentary
No Direction Home
, scheduled to air on PBS on September 26 and 27.
Bob Dylan will next return to the stage on October 17 in Stockholm, Sweden, and he'll proceed to tour the bejesus out of Europe for more than a month. Exact tour dates and other information is, as always, readily available at
the man's website
.