Z = They Are Alive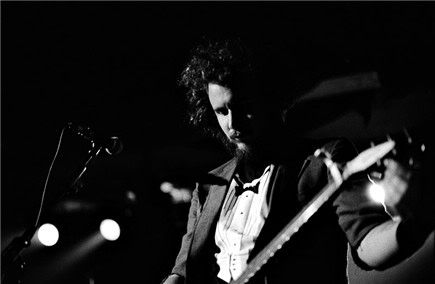 Splinking of fine young bands (he was really splinking), My Morning Jacket have released details regarding their follow-up to 2003's masterful
It Still Moves
. Titled
Z
(not after the film, I'm guessing), the album is set to be released on October 4 and will contain ten new songs, including these two:
My Morning Jacket - "Dondante [Live]"
My Morning Jacket - "Off The Record [Live]"
These are taken from MMJ's July 12 performance at Bonnaroo. The sound quality is not great, but that should just further whet your appetite for the new album. "Dondante" has an otherworldly, gorgeous and for the most part wordless vocal from lead singer Jim James. Well, the first-half does. It's almost like two separate songs, but the drum crash certainly bridges them well. The sax at the end is, of course, making me very happy. I believe "Off The Record" is
Z
's first single.
I'm looking forward to hearing the album versions of both songs. It's gonna be no small task to top
It Still Moves
, which I consider to be the very best album released in 2003. Let's hope these boys are up to it.
My Morning Jacket - "I Could Never Take The Place Of Your Man [Live]"
Here we go! One of my favorite bands of today covering my very favorite Prince song — I can't ask for much more. It's pretty faithful to the
Sign 'O' The Times
take, but there ain't nothing wrong with that. At least they sound convincing, right? I've heard words like "funky" and "jazzy" thrown around to describe
Z
, so maybe covering Prince is more than just a one-off. I am partial to their more country-rock songs, but it's also nice to see them moving in new directions.
You can regularly visit
My Morning Jacket's website
to keep up to date as the release of
Z
nears, but you probably already knew that.