Guess Who Ain't Gon' Crack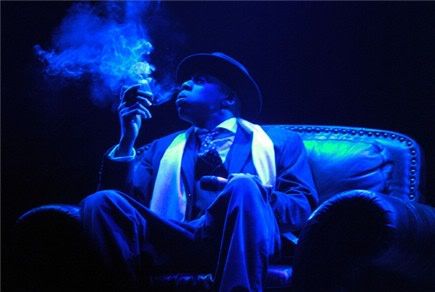 Hip-hop has long been a sport for spectators as much as for players, and many of us on the sidelines have never been able to resist the temptation to compare its greatest figures, like any sport really. With that in mind, some time in the last month I realized that my own personal "Best Rapper Alive" ordination had changed. I was one of those who firmly believed that Eminem was the true, living God MC. Despite his disappointing efforts on
Encore
and his increasingly shitty guest verses, I maintained. Em, however, seems to have momentarily (if not
permanently
) lost interest in using his flow for the powers of good; case in point: "My Ballz" on
The Longest Yard
soundtrack. Em's decline is only part of the story though; if it weren't happening at the same time as Jay-Z's culmination, he'd still be sitting atop the throne. The truth is, Em and Jigga have been neck and neck for some time. That's not to say there aren't other contenders: Murs, Ghostface, Nas, Black Thought, 50 Cent, MF Doom, Royce Da 5'9", Joe Budden and others have all had their moments, but they don't manage to be as consistent as Eminem or Hov.
Inarguably, Em's greatest gift as a lyricist has been his ability to bring the personal to the plate in a palatable way. Others before him, most notably 2Pac, also dealt in the personal, but none of them ever made it the focus the way Em does. Granted, on
Encore
, that gift appeared diminished, tending towards exaggeration and nearing parody, but there's no doubt Em's success has influenced other rappers to bring more of themselves into the picture. No one has had more success with this than Jay-Z. Beginning with
The Blueprint
, S-Dot's lyrics have become more and more personal, with ever more of the man behind the mic being revealed. Combine that with the most flexible flow in the game, his charisma and his superior wit and wordplay, and you might begin to understand why I believe hip-hop has a new king.
Kanye West & Jay-Z - "Diamonds From Sierra Leone [Remix]"
Jay's turn on the "Drop It Like It's Hot" remix was what first alerted me to the possibility that he was overtaking Em, but this the verse right here that pushed Hov over the edge. Kanye does Kanye, whatever, but the man of a million names hits hard in his new President Carter guise. Like I said above, it's all about the personal. Not many rappers could get away with airing out their friend's shortcomings on record, but even fewer could brush it aside with a line like "As long I'm alive he's a millionaire". One has to wonder how Bleek feels being told that "he don't even have to write rhymes". Something this styling isn't supposed to have such substance, but leave it to Mr. "Impossible Takes A Week" to work it out. Jay's obvious joy for the new ways he finds to flow seals the deal, as he delivers the verse in an intoxicating rush of rhythm and gleeful swagger. Shit, if I could count Corporate America and the English language among my harem, I'd be giddy too.
Jay-Z - "Dear Summer [Funkmaster Flex Version]"
Here's a revealing rough-draft of the
534
cut on Funkmaster Flex's Hot 97 radio show, from February of this year. From the fuck-up at the beginning to references to Peaches & Herb to his belated concern that the mic is catching feelings, the man is endlessly captivating. TRL, drunk uncles, advanced quotes, Suge, Superman - it's all here! How he still so good, and better? I guess in retirement he sits on his shit a little longer, honing it to perfection, but whatever the case may be he's accomplishing as much in his scant appearances these days as he used to over the course of an album. He clearly ain't lying about being in a good mood, nor about cats being lucky because of it. Hopefully both the game and Game were listening. 700%, y'all heard?
Jay-Z - "Dear Summer"
This has been around now for some time, so probably everyone who wanted it has it, but I thought it might be nice to post the two back to back for comparison's sake. I prefer the radio version, but that's just me.
Whether or not Em is down for the count remains to be seen, just letting y'all know where I stand today. Do you really need a link to Hov online? Probably not, but here goes:
Jay-Z's website
.