A Pair Of Brunettes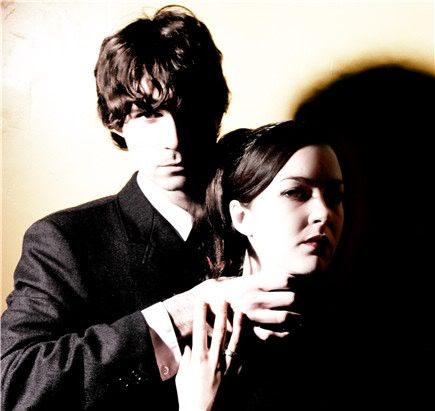 Shows, that is. The Brunettes is the name of my latest flame, and over the course of the last two months I've been fortunate enough to see this young New Zealand band twice. The first time was in Portland at the dreaded Crystal Ballroom on May 15, where they were opening for The Shins. Unlike basically every other person in attendance, I went to see The Brunettes, having become enamored with them off the strength of their 2004 full-length
Mars Loves Venus
. Don't get me wrong, I also quite enjoy The Shins, but I wouldn't have made it to this show if it weren't for The Brunettes opening. And The Brunettes did not disappoint. I would describe their style as 60s bubblegum-pop meets Motown grooves; it's very derivative, true, but that does little to diminish its appeal.
I saw The Brunettes for a second time opening for Feist and Rilo Kiley exactly one month later at the Showbox in Seattle, a show that has the distinction of being the hottest (temp-wise) I've ever been to. For the first time in my concert-going experiences I understood why people pass out. The Brunettes, however, were once again remarkable. Though they played fewer songs that I'm partial to, they seemed to be much more in a performing frame of mind and worked this American audience much better than the one just a month before.
A long, long time ago I had intended to do concert reviews of each of those shows, pointing out that The Shins really are our modern Simon & Garfunkel, commenting on how simply awful Feist was live (which I say despite the fact that I love
Let It Die
) and going into detail about Rilo Kiley's set, but time is running out for me so I've decided just to write about The Brunettes. I'm sure you won't mind.
Here are my two favorite songs from the aforementioned
Mars Loves Venus
:
The Brunettes - "The Record Store"
My favorite Brunettes song thus far, possibly because, having worked in record stores for years, I can relate to the lyrics. It starts with a great lick, probably stolen, but it's Jonathan Bree's convincing vocal that seals the deal. Elsewhere, Bree severely damages several songs with his "rock voice" posturing, but that's not a problem here. It's just a great song.
The Brunettes - "Best Friend Envy"
This song is a great rave-up, sung by frontwoman Heather Mansfield. Here the lyrics prove the 60s pop connection: it harkens back to girl-group songs like Lesley Gore's "It's My Party" where something as simple as best friend envy can be elevated to such monumentally worrying heights. All in all it's a brilliant update of that style, especially considering that very few vocalists could pull off this kind of melodrama nowadays without being annoying. Which leads me to my next point: by far, The Brunettes steer clear of the many pitfalls awaiting a band with such a derivative palette. I find them endearing and playful where others would strike me as simply unnecessarily retreading already well-worn ground.
Be sure to head over to
The Brunettes' website
where you can stream-in-full every song from their two full-lengths,
Mars Loves Venus
and 2002's
Holding Hands, Feeding Ducks
. In fact, it's imperative that you sample some of those songs because neither of the two I posted feature The Brunettes' knack for the bubblegum-duet. Many of their songs, like "Talk To Jesus" and "These Things Take Time", have lyrics that sound like dialogue from old beach movies and such. Some of the songs on
Holding Hands, Feeding Ducks
, for instance, wouldn't feel out of place on the
Grease
soundtrack. Bree has some great lyrics (favorite line: "it's no secret that when I sing I like to sound American" from "The Moon And June Stuff"), Heather's a dynamic vocalist (listen to "Loopy Loopy Love"), and the other Brunettes do a great job of re-imagining those old sounds. Treat their
Listen
page like a box of chocolates and listen to whatever looks appealing at first sight. Just be sure to brush your teeth afterwards.