I'll Listen Long As I'm Able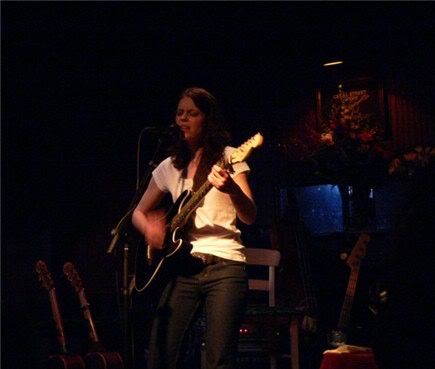 I saw two great shows this past weekend. The first show was Over The Rhine, with Kim Taylor opening, on Friday at the Doug Fir Lounge in Portland. I came close to seeing Sleater-Kinney there a few months ago, but I'm glad I didn't: it's this really tacky, faux log cabin hipster magnet. It's one of those places where the music (being performed downstairs) seems to be an afterthought, with the bar and restaurant the true attraction. Judging from their schedule they put on a lot of good shows, but I really wasn't feeling the overall atmosphere.
Luckily the ambience of the lounge in no way detracted from the music. Kim took the stage right on time, just her and her guitar. She played maybe five or six songs, and while I didn't enjoy all of them some were quite good and I liked her overall bluesy, confessional style. Plus she had a very charming stage presence, liberally interacting with the crowd and making jokes that were actually funny. She did this very endearing thing where she said she'd brought a trumpet player with her, and then she made these trumpet-sounding noises with her mouth. Look, you weren't there, it was funny dammit! The overall impression Ms. Taylor left me with was one of a sweet, coolly collected and down-to-earth simple gal, and I hope to hear more from her in the future. Here are a couple songs from her 2004
Extended Play
EP, neither of which she played Friday night:
Kim Taylor - "Maggie"
Kim Taylor - "Telephone"
Here's another song available from Amazon, which means you'll probably have to sign in to download it. This one is from her 2002 full-length
So Black, So Bright
:
Kim Taylor - "Myself (Enough)"
You can visit
CD Baby
to preview more songs from
So Black, So Bright
, including my personal favorite "Birds And The Bees", and to purchase the album if you like. You can also visit
Kim's website
for more information and tour dates.
Over The Rhine took the stage shortly after Kim departed. This was my first time seeing them so I was pretty excited, having thoroughly enjoyed their
Films For Radio
and
Ohio
albums and just starting to get into this year's
Drunkard's Prayer
and their older material. I guess they weren't feeling the Doug Fir mood either, because they decided to set their own by lighting candles and bringing flowers out. Then they proceeded to play a great 18-song set (plus encore) with an interesting selection of songs culled from their many albums, which included some of my favorites ("Suitcase", "Long Lost Brother", "Anything At All" and "Born") as well as some great songs I didn't already know ("Jack's Valentine" and "All I Need Is Everything"). They played like a band that's incredibly comfortable with their music and their audience, which meant a lot of fun for both them and us.
Here's a few songs to introduce you to Over The Rhine, if you're not already familiar with them:
Over The Rhine - "Born"
Over The Rhine - "All I Need Is Everything"
As I mentioned above, "Born" and "All I Need Is Everything" were both played on Friday and they were both highlights of the show. They invited Kim Taylor back to the stage to play guitar and sing on these songs. They sounded really good live with the girls singing together, but they're great in these studio versions too. "Born" is from
Drunkard's Prayer
and "All I Need Is Everything" is from 1996's
Good Dog Bad Dog
, the home recordings, as opposed to the 2000 reissue of
Good Dog Bad Dog
on
Back Porch Records
.
Over The Rhine - "Show Me"
They unfortunately didn't play this Friday, but I decided to post it anyway. It's one of the standout songs on
Ohio
, which is my favorite album of theirs and the one I'd recommend a newcomer starting with.
Over The Rhine have one of the best designed sites I've seen and they offer a generous selection of free downloads from each album, plus a wealth of information for the uninitiated to explore. You can also purchase any of their albums directly from them, so be sure to stop by
their website
.
I'll post on the second show I saw this weekend tomorrow, or maybe the next day. We'll see...