To Make It All New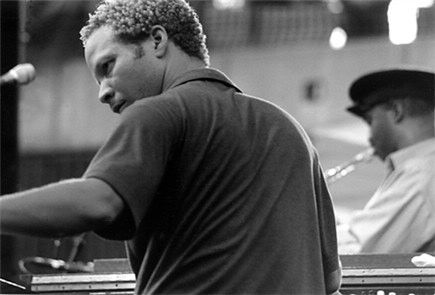 I should've known that when I made the provocative statement that "modern jazz has become increasingly less interesting" in my post on Wibutee I was going to be corrected by at least a few people who know a lot more about the subject than I do. One of the people that sent me a passionate recommendation in the wake of that post was my friend Marat, who took it upon herself to introduce me to the wonders of
Junk Magic
.
Let me explain.
Junk Magic
is the name of Mr. Craig Taborn's 2004 album.
Junk Magic
is Taborn's third record as a band-leader, his second for
Thirsty Ear Recordings
and his first to incorporate electronic elements. It's that last fact that's most important: to call this album "the most fully-realized union of jazz and electronics", as Thirsty Ear does on their website, is one hell of an understatement. Taborn's band for the album features Mat Maneri on viola, Aaron Stewart on tenor sax and David King on drums, with Taborn himself on keys. However, one of the main reasons
Junk Magic
works so well is that Taborn approaches the album as much from the vantage point of a producer as that of a musician, using samples, cut-ups and clicks in a way that's much more akin to pop and hip-hop than jazz. The editing, the way it all comes together without ever sounding contrived or forced, is but one of the many things that astounds.
Craig Taborn - "Bodies At Rest And In Motion"
This song features Stewart's best sax playing on the album, which is why this is one of the first songs that stood out to me. It starts off as a straightforward stroll, bluesy and melancholy, but the song eventually becomes a world unto itself, a poorly lit walk through an ominous forest, where the clicks are creatures that you just know are waiting for the right moment to strike. As you emerge from the woods, the gnashing teeth of those animals trail off and you're left with the safe and all too sane sound of your own footsteps. This is where Taborn earns the phrase "junk magic".
Craig Taborn - "Stalagmite"
This is the shit, right here. I'd say this is as close to electro as jazz gets, and I'm sure Peaches or Felix da Housecat would agree. In some futuristic movie yet to be made, this is what plays while the neighborhood playboy swaggers down the street. It's just over a minute, but it's here to convey the breadth of styles Taborn takes on with
Junk Magic
. It's no suprise that he does it so well considering that one of his jobs as a sideman was in Carl Craig's Innerzone Orchestra.
I was unable to find an official website for Taborn, but I did find this long and enlightening
interview
with Screwgun Records. If you enjoy these two songs, don't hesitate to pick up
Junk Magic
because the rest of the album is very nearly as good.
Although with this and Wibutee I'm quite set in the jazz department for some time (not discouraging recommendations though!), I am really looking forward to eventually exploring Taborn's earlier albums and albums he's played on.