Been On The Job Too Long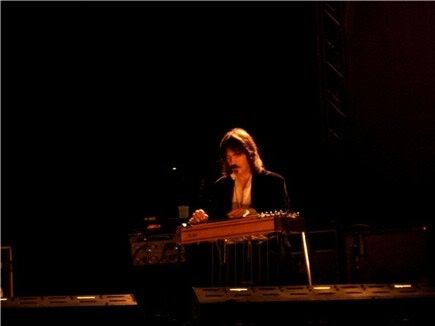 Today's post is going to be a quick one, just to pay tribute to a departing member of Bob Dylan's excellent band. Larry joined Bob's band on March 31, 1997 on guitar in St. Johns, Newfoundland. Over the last seven and a half years he has, along with bassist Tony Garnier, been the backbone for Bob's ever-evolving Never-Ending tour. Larry's contributions as a brilliant multi-instrumentalist have been incalculable. Honestly, it would probably be easier to count the instruments Larry can't play, rather than the ones he can. More than anything, I personally will miss Larry's pedal steel playing when I next see Bob.
And not only has Larry been a joy to watch in concert, his various appearances on record have been outstanding, especially on Bob's deep, dark, truthful
Love And Theft
album from 2001. Besides Bob, Larry has turned up (as a musician or producer) on albums by artists as diverse as Willie Nelson, Sheryl Crow, Paul Simon, Cyndi Lauper, Shawn Colvin, Lyle Lovett, Edie Brickell, Buddy Miller, Peter Wolf, Roseanne Cash and The Dixie Hummingbirds - and that's just in the last five years.
Shortly before the start of the latest leg of Bob's tour (set to begin Monday in Seattle!), Larry announced that he was moving on from the band. It appears that Larry made this decision in order to spend more time off the road and with his family and to dedicate more time to being a highly sought-after studio musician. However, one of the first things Larry did since becoming a former member of "Bob Dylan & His Band" was release his first solo album, an acoustic guitar workout called
Rooftops
. Larry had this to say about
Rooftops
:
I suppose the common thread running through most of this album (with the exception of the two originals and "House Carpenter") is that these are all tunes that I originally learned on the fiddle. Playing fiddle tunes on solo guitar is certainly nothing new, but when you consider all the hoedowns, reels, jigs, rags, airs, waltzes etc. out there, it's pretty rich territory to mine.
Here's the
Rooftops
song that
Treasure Records
generously made available for download:
Larry Campbell - "Camp Chase"
If you like "Camp Chase", kindly pick up
Rooftops
from Treasure Records, and definitely get
Love And Theft
, Bob's greatest latter-day masterpiece. You can stay up to date on Larry's adventures as a sideman by visiting his
website
, which is incredibly informative and run by folks who are genuine fans of his music.
UPDATE: In an effort to convey what an extraordinary musician Larry is I thought it relevant to point out that Bob Dylan felt the need to replace him with three (!) new band-members.