I Seen Something & You Seen It Too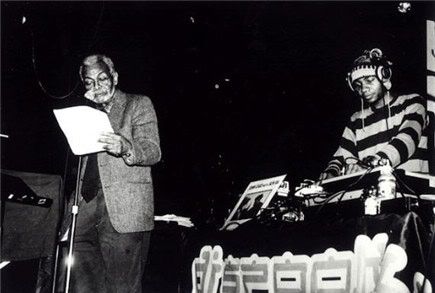 I'll be in Seattle over the next two or three days, seeing a couple Tift Merritt shows and whatnot, but I didn't want to take off without leaving a parting gift.
I've been reading the poet Amiri Baraka (the artist formerly known as LeRoi Jones) a lot lately. His words always have a tremendous effect on me, which means I can't read him as often as I'd like, but lately I've felt up to the task.
I especially wanted to share a recording he made with The Roots a few years ago:
The Roots & Amiri Baraka - "Something In The Way Of Things (In Town)"
This is from their 2002 album
Phrenology
and is an incredible, incredible poem. Baraka has over 40 years of experience reading poetry, but that only partly explains why he has such an impact when he reads. Of course, The Roots back him up superbly.
Amiri Baraka - "In Walked Bud"
This is another recording of Baraka reading a poem. I took this off the internet, so I'm not sure when it comes from.
Amiri Baraka - "Wise Why's Y's [Video]"
This is a Real Player video of Baraka reading.
I also wanted to share a few of Baraka's written poems, because they're great and because I really want to incorporate my love for poetry into this blog. A lot of Baraka's poems can be found on the internet. His
website
is an excellent place to start looking. I hope you all enjoy the poems. I'll see you next week, if not Sunday.
Preface To A Twenty Volume Suicide Note
Lately, I've become accustomed to the way
The ground opens up and envelopes me
Each time I go out to walk the dog.
Or the broad edged silly music the wind
Makes when I run for a bus...
Things have come to that.
And now, each night I count the stars.
And each night I get the same number.
And when they will not come to be counted,
I count the holes they leave.
Nobody sings anymore.
And then last night I tiptoed up
To my daughter's room and heard her
Talking to someone, and when I opened
The door, there was no one there...
Only she on her knees, peeking into
Her own clasped hands
Monday In B-Flat
I can pray
all day
& God
wont come.
But if I call
911
The Devil
Be
here
in a minute!
Wise I

WHYS (Nobody Knows
The Trouble I Seen)
Traditional
If you ever find
yourself, some where
lost and surrounded
by enemies
who won't let you
speak in your own language
who destroy your statues
& instruments, who ban
your omm bomm ba boom
then you are in trouble
deep trouble
they ban your
own boom ba boom
you in deep deep
trouble
humph!
probably take you several hundred years
to get out!