You Better Let Me In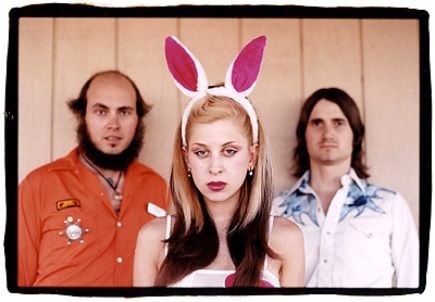 Gram Rabbit's debut album from last year,
Music To Start A Cult To
, was a welcome surprise. G-Rabbit's pot runneth over - cooking up everything from alt-country twang to trip-hop to jangle-pop to a variation of rap closer to Nellie McKay than Chuck D - resulting in something they consider akin to their forefather Gram Parson's "Cosmic American Music". Of course, any group that attempts to capture so many distinct styles under one parasol isn't going to succeed entirely, but Gram Rabbit certainly do better than could reasonably be expected of a debut. In other words, the music Gram Rabbit make is as weird and unique as the desert trees which inhabit their hometown of Joshua Tree, California. There are quite a few wrinkles in the Gram Rabbit fabric, but I'm looking forward to the band attempting to iron them out on subsequent albums.
Unfortunately, since the band really is all over the place, there's probably not one song, or ever two, that I could post to give you an accurate impression of their full-length. Suffice to say, if you like any of the following tracks, do not hesitate to pick up
Music To Start A Cult To
.
Gram Rabbit - "Devil's Playground"
"Devil's Playground" is my favorite song on the album. It sounds like it might be a cover of an obscure country song from a by-gone era, but in fact it's just another gem from the pen of Jesika von Rabbit, Gram Rabbit's leading lady, and guitarist/singer Todd Rutherford.
Gram Rabbit - "Witness"
Bassist and "sample-guru" Travis Cline makes this song, although Jesika's beguiling vocal performance certainly helps.
Gram Rabbit - "Dirty Horse"
There's also this
interview
I found online, if you want to read more about the band. Otherwise, head over to their
website
or to
Stinky Records
to purchase the album.