Kinda Nice To Maybe Shine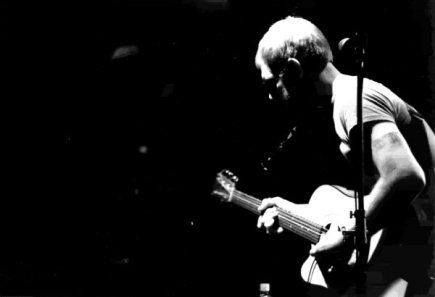 Usually when I hear that some unknown kid sounds exactly like one of my favorite singers I pay it no mind. Nine times out of ten it ends up being completely false. But, like a sucker always on the hunt for that latest discovery, I picked up The Gunshy's 2004 album,
No Man's Blues
, because I constantly heard him being compared to Bob Dylan and Tom Waits. The Gunshy is the name that 24 year-old Matt Arbogast has chosen for his one-man band. Unsurprisingly, the songwriting and performances on
No Man's Blues
are galaxies away from Dylan and Waits, but it's true about his voice: Arbogast does sound exactly like Tom Waits used to. It makes for an eerie, almost discomforting listen. It's entirely possible to close one's eyes and imagine you're listening to a lost Waits album. I know, I know, there's no way you're going to believe me until you hear it for yourself. Fair enough:
The Gunshy - "No Man's Blues"
The Gunshy - "Your Favorite Dylan Song"
Now do you believe me? "No Man's Blues" is the song on the album that features the most Waitsian vocal performance. "Your Favorite Dylan Song" pretty much makes it clear how Arbogast feels about comparisons like these, but it's also one of the best songs on the album...and not just because it references the Master in its great title.
The rest of the album doesn't reach the heights of these two songs, but it's still worth hearing. It's hard to resist the feeling that at times Arbogast pushes his voice to sound older and more haggard than it actually is. That might be unfair (he didn't choose his voice, afterall), but it is a notion that crept into my mind from time to time as the album spun. That and the production are the two main things holding The Gunshy back, but I think in time he might develop into a truly compelling talent.
There's more information on The Gunshy at this
press release
, including links to mp3s of a few more songs from
No Man's Blues
. If you like any of these songs enough to listen to them more than once, please buy the album from
Latest Flame Records
or catch one of The Gunshy's passionate live shows.