I Can't Talk Now, I'm Not Alone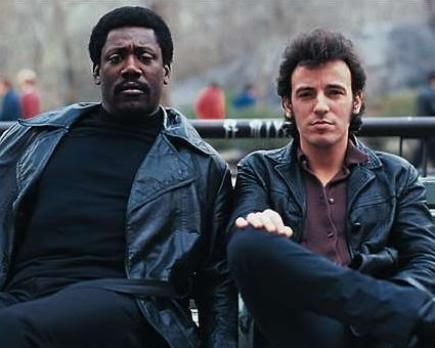 In a couple hours I'll leave for my road trip to New Mexico, which means that this is effectively my last post of 2004. I'd like to close the year with something truly special, so today I'll be posting my most listened to song of 2004. Not from 2004, of 2004.
Bruce Springsteen has always been an artist that I respect more than I enjoy. At one point or another I've heard all of his albums, except
The River
, and while the craft and passion in his music is undeniable, none of his songs have ever spoken to me on that level that I require before I can feel a genuine connection with an artist. There was never a Springsteen song that I could champion, that I could call my favorite.
That changed dramatically the first time I heard "Hearts Of Stone", from his
Tracks
box set. This song floored me and I remember singing it over and over that day. The lyrics say so little but express so much, the singing is Springsteen's voice at it's most nuanced, the melody is breathtaking and Clarence Clemons' saxophone moves me like very few things in music ever have. Keeping in mind that it's actually just a guide version for Southside Johnny & the Asbury Dukes makes it all the more incredible. Frankly, it makes me wish more of Springsteen's songs were guide versions.
Bruce Springsteen - "Hearts Of Stone"
There you have it. I'll be seeing you in a couple weeks. Or should I say next year.