Look Out, Matador!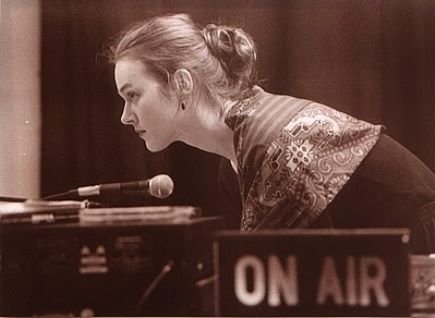 "My favourite record of the last ten years and possibly my life" is how John Peel famously described Laura Cantrell's debut album Not The Tremblin' Kind. "It's country, and I don't know why I like it," he continued. I had just begun blogging when Mr. Peel passed away earlier this year and, having not spent much time in the United Kingdom, I never listened to his radio show, but just the fact that he was one of the few to play Laura Cantrell's music is enough to make him a legend in my book.
Since Tremblin' Kind was released in 2000, Laura has had one other album, 2002's When The Roses Bloom Again. To my ears, it was even better than Tremblin' Kind. Since then I have been waiting with bated breath for Laura's next move, as I'm sure all of Laura's fans have - all 15 of us! Despite her touring with Elvis Costello ("If Kitty Wells made 'Rubber Soul' it would sound like Laura Cantrell," he said) and a 2004 reissue of her 1996 EP The Hello Recordings, it's been a long wait. Once again, I get to be the bearer of good news: Laura Cantrell has signed to Matador Records. A press release this past Wednesday also announced her still untitled follow-up to Roses, which is scheduled for a late spring release.
For those of you who've never heard of Laura, allow me to briefly recount her story, which is really one of the most fascinating bios around. Laura's parents were both attorneys in Nashville. Her great, great aunt was a songcatcher and she absorbed a lot of country music growing up. Later, she was a tour-guide at the Country Music Hall of Fame. Keeping music mainly on the side, Laura worked at a Wall Street investment firm, eventually ending up with the unwieldy title of Vice President of the Banc of America Securities Equity Research Department. Lord knows what she did there. As her music career began to take off it became increasingly at odds with her day job until, thankfully, she resigned in the spring of 2003 to concentrate fully on her music. It's true - Oprah Magazine documented it in a section on "women who followed their passions". All of this and Laura continues to host "Radio Thrift Shop" every Saturday for WFMU. See, isn't that an interesting background?
I'd like to mention that Laura has one of the most sincere and deceptively emotive voices in contemporary country music. By that I mean, her voice sounds so simple and yet, before you know it, it has not only worked it's way under you skin, it's broken your heart with it's tune. To prove a point, here's the title track from When The Roses Bloom Again and Laura's excellent version of Bruce Brakefield's "Rain Boy", which was broadcast live on Peel Acres in May 2003:
Laura Cantrell - "When The Roses Bloom Again"
Laura's website has many other fantastic mp3s to download, including a beautiful cover of Elvis Costello's "Indoor Fireworks", as well as links to "Radio Thrift Shop" Real Audio streams. Matador Records proudly displays their recent signing of Laura on their front page, with a link to the press release I cited.