Über-Post, Part I
My apologies for my three day absence, it's been a busy beginning to the week for me.
On Saturday I saw a great quadruple bill at the
Graceland
in Seattle. It was my first time there and I liked it a lot: it's got one of those great wooden floors that vibrates with the rumble of the music, which for some unknown reason really makes me happy during shows. Go figure.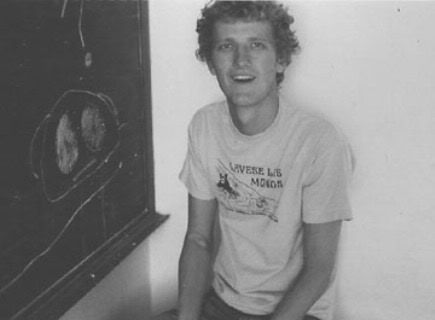 Up first was Graham Travis. I did some research on him the day before the show just to get an idea of what to expect. I found an interview and review of his debut album, Why Don't You Know Me Yet?, from Delusions of Adequacy. They place him in the company of Bens Folds, Kweller and Lee and also pegged him as a Beatles devotee, not surprising considering that he practices straightforward power-pop. He played a short set with four "friends" who really seemed to enjoy making music together. They actually reminded me of the New Radicals more than anyone else, which probably horrifies most people but was fine with me. Here's what I consider the catchiest song from his debut:

Graham Travis - "Tripped You Up"

I had a brief conversation with Graham after his set because a friend of mine wanted to buy his CD. He's a genuinely nice, easy-going guy so I wish him success with his sophomore album, which he said he'll begin recording early next year. Visit his website for more information.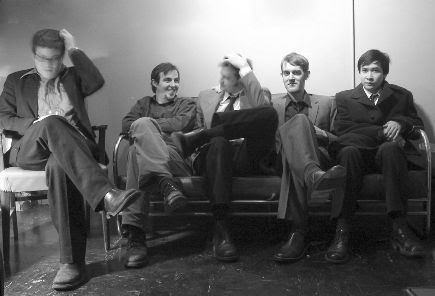 Up next was Manishevitz, a band that I've been fond of for some time. I first became interested in them due to comparisons to Roxy Music, one of my all-time favorite bands. Upon discovering Manishevitz's music, via their albums Rollover and City Life, I was not disappointed. Their only real similarities to Roxy are their prominent use of horns (Nate Lepine on sax and flute) and lead singer Adam Busch's Bryan Ferryesque sassy croon; beyond that they are a young band with a lot of ideas and their own original voice. Sadly, almost nobody has heard of them. Describing their set requires me to employ oft-misused rock-lit jargon, such as "blistering", "non-stop" and "stellar". To me, the hallmark of a great band has always been one that I enjoy as much during their instrumental passages as I do during vocals. It's a very short list: Roxy Music, Sleater-Kinney, Radiohead, T. Rex, Creedence and maybe the Stones. Manishevitz definitely had this going on Saturday. I found myself completely absorbed by their sound and 100% engaged by their long instrumental breakdowns. Thanks largely to the fact that I was literally one of three or four people on the main floor in front of the stage, I let loose and danced my ass off. If anyone at the Graceland has found my ass, please get in touch!

I doubt anything off of either of their albums, as good as they are, can do their live show justice, but here is the opening track from their 2003 album City Life:
All three of Manishevitz's full-length albums have been released by Jagjaguwar, a great label that Simon Joyner, Julie Doiron, Oneida and Richard Youngs also call home. Please visit Manishevitz's Website to learn more about this great band.
Stay tuned for part two of this post, which will be about the second half of the quadruple bill.