The Tail-End Of Rock & Roll?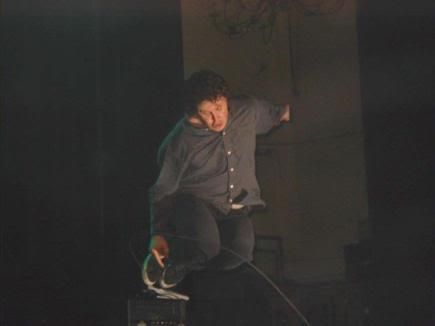 Sorry for the late post tonight, but I've got something special to make up for it. Tonight I make my first post concerning the artist nearest and dearest to my musical heart. Who could that be? The same genius that sits soundly atop my artist links. Although tonight, Bob Dylan sneaks in by way of a band that only has six shows left in their career...if you guessed Guided By Voices, you win nothing, but you rock!
This little recording is taken from the band's November 7th show in Houston, Texas. It begins with an awesome rant in which Mr. Pollard lets the audience know that indie rock sucks and rock & roll is almost dead, but the end of the world won't be happening any time soon. Thanks for clearing that up Robert. Now, I've never seen GBV live so I wouldn't know if this is Robert Pollard sober or drunk, but I do know that if he rants like this every night then it's entirely worth the price of admission, regardless of what the band plays (or even if the band plays). Enjoy:
Guided By Voices - "Mr. Tambourine Man [Live]"
For information about those final six shows or information about thee Voices in general, visit:
Guided By Voices' Website
P.S. Thanks so much to Eric (aka 20/20 Vision) for the audio.