I Know It's Out Of Love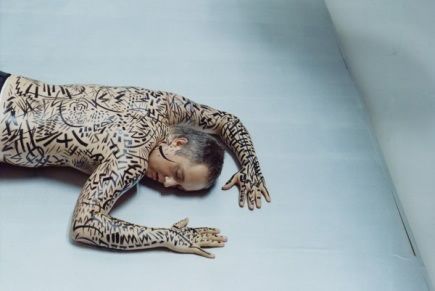 Have you ever had that experience where after hearing a song for the first time you immediately want to hear it again...and again and again? Last night this happened to me. I listened to Antony & the Johnsons' "Fistful Of Love" at least 20 times in a row.
"Fistful Of Love" is the first song I've ever heard of theirs. It's the lead single from their forthcoming album
I Am A Bird Now
(due February 1 on
Secretly Canadian
), but it also appears on their recent
The Lake
EP. On the strength of "Fistful Of Love"
I Am A Bird Now
has instantly become one of the albums I'm most anticipating in 2005. What makes it so special? Well, first Antony's voice is an evocative cross between Bryan Ferry and Otis Redding, but purer than that suggests. Secondly, the horns, arrangement and vocal performance are straight from Elvis' old playbook, circa
From Elvis In Memphis
. Throw in a spoken introduction and guitar from Lou Reed and you have one of the top three songs of 2004.
I could easily write pages about "Fistful Of Love", and as you've probably already realized I'm no paragon of brevity. I feel like saying something completely over the top like "This is beauty incarnate!", but for once I'm going restrain myself.
Antony & The Johnsons - "Fistful Of Love"
If you end up enjoying this song half as much as I do, stop by
Antony & the Johnsons' website
to learn more about this fascinating group.