Because Laughter Is Cool Too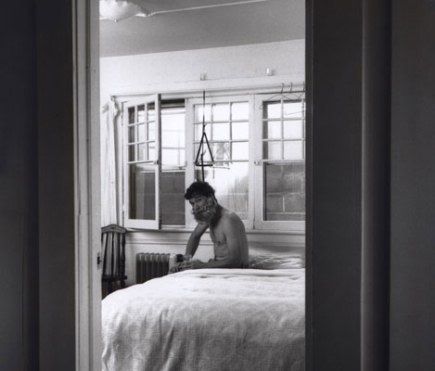 On Saturday I went to see the Encyclopedia Of Fun at the ABC House in Olympia. They're a young Olympian band, comprised partly of Jenny Jenkins and Gabe Lifferth (also of the Strangers). They have this one incredible song called "Hole In The Ground", which is probably the first "looper" of the year for me. Unfortunately, they didn't have any of their CDs with them so I have nothing by them to post, but keep your ears open.
However, as luck would have it, a Mr. Tom Heinl was one of the first acts. This was to my complete surprise, I hadn't seen his name on the flyer for the show, but I was certainly pleased when he took the stage. Actually, there was no stage, so when he took the front of the room. Tom writes parody songs in the vein of classic country and western, at times sounding like a comedic Johnny Cash. I first heard about him more than a year ago from a friend who assured me that his music was hilarious; now having seen him live I can definitely attest to that. He had me hunched over in laughter for the duration of his set, delivering such strokes of genius as "Three-Way" and "IHOP" in complete deadpan. Here's a couple songs, hopefully they'll make you laugh too:
Tom Heinl - "Three-Way"
Tom Heinl - "Half Day Vacation"
Tom Heinl - "Ingrown Nail (On The Oregon Trail)"
See what I mean? "Ingrown Nail" sounds like a classic C&W story song from the 60s, until you consider the lyrics. "Three-Way" is Countrypolitan to the core, right down to the background singers, and anyone who doesn't double over when they hear Tom sing "you know it kinda turned me on when you told me one time you had a three-way" for the first time is hopeless.
Tom has two albums, I believe, the latest being 2003's
With Or Without Me
,
so called because of the instrumentals that comprise the second half of the album, which invite the listener to sing their favorite Heinl songs through the wonders of Stereoke! "Three-Way" is from
With Or Without Me
. So is "Half Day Vacation", but the version above is from a tape of demos.
If you enjoy these songs, visit
Tom's website
and learn more about him. You can even read some of his fifth grade journal while you're there. Or you can purchase
With Or Without Me
from
Leisure King
. Lastly, there's this short but sweet
interview
of his with The Onion.