A Real Cool Handjob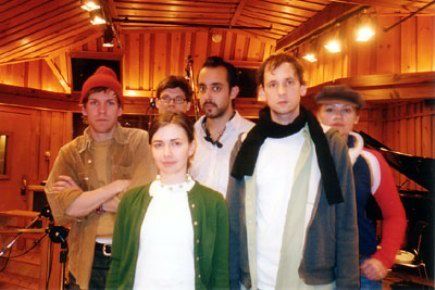 There's not a lot I can say when it comes to Love Of Everything, although I've heard some interesting things about their album from last year,
Handjob Community
. What I can tell you is that Love Of Everything's steward and sole constant member is Bobby Burg, who's also a member of Make Believe and Joan Of Arc. I've never heard either of those bands, so I can't say how helpful a touchstone they are. Other than Burg, Love Of Everything consists of a different set of musicians on nearly every song, most of them being the borrowed band-members of Burg's more popular friends, including folks from Rainer Maria, The Race, The Owls, as well as the aforementioned Joan Of Arc and Make Believe.
The music Love Of Everything makes has been described almost unanimously as incredibly self-indulgent, with most of the reviews coming down on the unfavorable side of that term. Unfortunately, having only heard bits and pieces of Handjob Community myself I can't weigh in (very heavily), except to say that I have liked what I've heard. So, basically, this one goes into the explore-at-your-own-risk file. Of course, I wouldn't leave you without a couple songs to get started with:
Love Of Everything - "Proud Brave Nothing"
The picture for this post is actually Bobby Burg (second from right) surrounded by all the musicians that play on this particular song. This is the best of what I've heard so far. Burg's voice seems to be the thing that frustrated most critics, but it doesn't bother me one bit.
Love Of Everything - "I Love You Guys Fast [Clip]"
On Love Of Everything's website there are also these mp3's from their previous album and an EP:
Love Of Everything - "Mary My Wife"
Love Of Everything - "Strip To The Sky"
If you're feeling molto adventurous, Handjob Community is available from Redder Records.