This Feeling Still Here In My Heart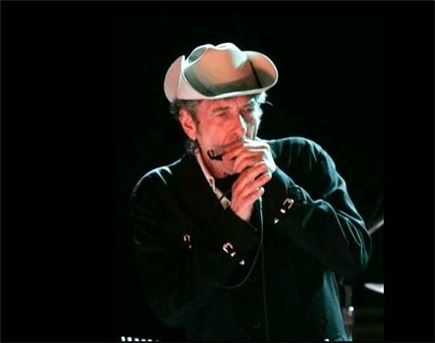 Despite the fact that I feel bereft of originality on this matter, I am going to write about Bob Dylan again, specifically in terms of his show I saw last week. Why? Because seeing Dylan is always a special experience for me, unlike any other. I'm sure most Dylan fan(atic)s feel that way, but, possibly because I'm not one of the truly gone who follows his tour night after night, each show stays set apart, crystallized as one evening in time. Plus, there's always the uncertain element of it all. You've heard it before, but that's because it's true: the man is genuinely unpredictable. One never knows what to expect and, really, it's better to check your expectations (along with your camera!) at the gate.
Standing in front of the stage at a Dylan concert feels very much like sitting as the Master's feet. You can sense what is so magically enduring about his legend, even if you cannot name it. As he sings, whether well or not, there is a feeling that he instills in me, a feeling that remains days after the final notes of "All Along The Watchtower", his usual closer, have faded from my ears. Whereas after a Devendra Banhart or Bright Eyes concert the details are soon forgotten, the looks on Dylan's face, the unique phrasing of specific words and even his and his band's dresswear remain clearly within view of my mind's eye.
Bob Dylan - "New Morning [Live]"
Bob Dylan - "God Knows [Live]"
The saying goes that Dylan never sings any song the same way twice, and I buy that. One of my favorite consequences of this is his amazing ability to recast songs I normally don't much care for (to put it nicely) as the highlights of a show. Last March in Denver he did this with "John Brown" and "This Wheel's On Fire", and last week in Bend, Oregon he did it with the two songs above. Mind you, these versions are not from Bend; "New Morning" is from the June 12 show in Zebulon, North Carolina and "God Knows" is from the July 24 show in Calgary, Alberta, but they're both fairly similar to the ones I caught in Bend.
"New Morning", as you may well know, is from 1970's
New Morning
, my very least favorite Dylan record. Yet, something about the drama of this country-rock arrangement makes the song sound better, to these ears, than it ever did before. Dylan builds the suspense at the beginning with a solo moment at the ol' skeleton keys, his instrument of choice (or, some speculate, necessity, due to back problems) these days. The lightness of the album version is completely erased as Bob's current band digs into a pounding new creation.
"God Knows", unlike "New Morning", isn't a song I dislike so much as I'm not greatly familiar with it, being as it is off of 1990's
Under The Red Sky
, an album I simply don't put on very often. Still, I believe the album version severely pales in comparison to this ramshackle rendition. I don't know if it quite comes across on this recording, but the entrance of the drums at the end of the first bridge (more specifically, brilliantly after the line "God knows it could snap apart right now / like putting scissors to a string") made for one hell of a conniption in Bend. Drummer George Recile truly proves his worth on this one.
One reason "God Knows" stood out was certainly because it's better suited than many of his songs to his current voice, which has seen better days to say the least. Another reason these two songs were highlights is that the original recordings of "God Knows" and "New Morning" actually leave room for improvement, whereas Dylan will probably never improve upon the near-perfection of his best songs. Of course, that doesn't mean he shouldn't try.
Bob Dylan - "Honest With Me [Live]"
Since the release of 2001's
Love And Theft
(a masterpiece, by the way), "Honest With Me" has rarely been absent from Dylan's set. I've heard it four or five times myself. It's become easy to overlook, as common as it is, but it's a song that all the recent incarnations of Bob's band have really gone to town on. Like "God Knows", one reason it works so well is due to the – shall we call it the gravity of Dylan's changing voice. It never fails to make those who only came to hear "Like A Rolling Stone" or "Tangled Up In Blue" think twice, so it must be all right.
Bob Dylan - "I Believe In You [Live]"
Judging from the following three songs, you'd be forgiven for thinking that Dylan's current band is one non-stop touring force built exclusively for rocking out. I've merely been saving the best for last, and here's where they show how flexibile they are.
"I Believe In You" is one of Dylan's finest compositions from his Gospel days. This version, recorded on July 21 in Vancouver, B.C., certainly doesn't better the 1979
Slow Train Coming
original, but I was still ecstatic to hear it live for the first time in Bend.
Bob Dylan is the greatest, most mercurial and most expressive singer I've ever heard. No other voice communicates with such emotional depth. With that in mind, it makes sense to me that a lot of the discussion of Dylan's current live show, among the die-hard contingent at least, tends to center on the condition of his voice. For myself, I'll say that I do miss the melody in his voice. He doesn't actually sing most songs these days, delivering them instead as if it were full-moon at a spoken-word performance, i.e. an expressive howl. When he does decide to sing, it's usually still fairly stunning, as this song attests. He slips back into a growl on the chorus, but that barely diminishes the beauty of this wonderfully ruminative version.
The adventures of the Master will resume in October, when are hero finds himself in Europe again. God knows what his band will look and sound like by then, but if I were European I wouldn't miss it for all the milk in Milwaukee.
His website
.