One Down, 32 To Go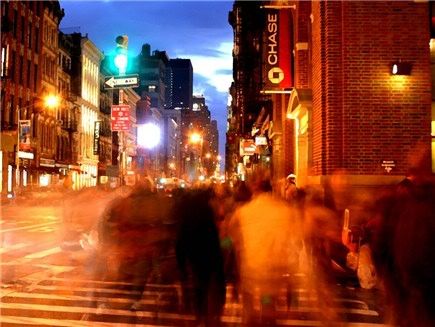 This has been, without question, the fastest year of my life. No contest. I've been told that the older one gets, the less memorable the years become, coalescing instead into such vaguely defined phases as "my late 30s" or "the years after Meg left me". A part of me didn't believe it: every one of my teenage years still stands out as its own separate entity, why won't years 27, 31 or 52 stand-out just the same? What is this nonsense about everything becoming one long blur?
If this fast year has been the beginning of the end, then maybe I'm starting to understand. Either way, this here blog o' mine has a part to play. On one hand, it's partly responsible for how quickly the year has come and gone. Whiling away the hours at my computer, painstakingly composing each entry, quite a bit of time felt like it was going right out the window. But, on the other hand, I actually have something to show for all that time. I can remember what album or song was driving me into hysterics when, whose show I caught and what I thought and all of the other major happenings in my musical world. It turns out keeping a blog was time well spent.
As always, though, it's not about me, but about the music, and as far as the music is concerned, it's onward and ever onward. There's always something new to hear: classic albums, new releases, internet-only songs and, of course, live shows. cool hand bak's sophomore year will surely bring more surprises; I never know what my next musical obsession will be or where it'll come from. Discovering new music is a lot like getting mugged: the unheard becomes the heard like a sudden blow, and when you come to you probably have a lot less money. Far from the jaded routine that keeps many a music writer clocking in, I still listen with the unfailing enthusiasm and awe of a 13 year old poring over their parents' records for the first time. I confess, I got a little sidetracked near the end of the year, but I'm rededicating myself to my original vision: cool hand bak should document what I'm listening to when I'm listening to it, with all of the impressions (first or otherwise) and heart-reactions that come with it.
Now, seeing as I've made it through a whole year (major achievement, I know) I think it's only right that I celebrate myself and my taste, at least a little. To that end, here are a handful of songs from cool hand bak's first year, presented in the order they were posted, that I'd like to re-draw your attention to. Who knows, maybe you missed them the first time around. Why these five songs, you ask. These babies happen to be freely available on the internet, donated for your listening pleasure by the artists and labels that created them. Enjoy.
The Transmissionary Six - "Happy Landings"
Antony & The Johnsons - "Fistful Of Love"
Viva Voce - "Alive With Pleasure"
Amy Miles - "Kill To Know"
Chuck Prophet - "Pin A Rose On Me"